If you are thinking essential oils for golfers the first thing that might pop into your head is aromatherapy and helping with your mindset similar to meditation. Essential Oils go beyond helping your mindset, which is a bit elusive, to help; prevent and heal injuries, keep you healthy, improve your stamina, keep your belly happy and repel any bugs on the course.
Here are the oils I use every day on the course.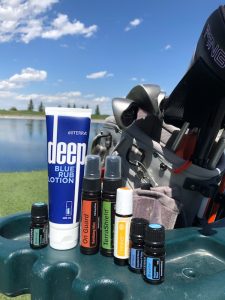 Before starting a round:
Deep Blue – the magic sauce for your golf swing
Apply it to your low back, shoulders, wrists or elbow. Where ever you feel tightness in your swing and it will help to loosen you up fast. Especially helpful on the days I'm rushing to the course after work and don't have time to warm up properly before that first hole.
Easy Air Blend – breathe deep and enjoy the day
A mixture of Eucalyptus, Peppermint, Cardamom and few others that help you breathe deep both for focus and concentration and to physically help you breathe deeper for better stamina. I love to walk the course but sometimes the hills get me huffing and puffing and having to catch my breath before I can tee off. Swipe it under the nose and across the chest before teeing off and then once or twice around the course.
Thinker – the positive thought booster
Ok this is a kids blend but it's honestly my new favourite for keeping my head in the game. The Vetiver and Rosemary in this blend help you stay focused and in the present instead of thinking of that last shot you missed. The peppermint boosts energy and the clementine helps you stay positive. And if you've seen my score that's all tall order some days – there I go again better roll that one on again!
On the Course:
On Guard Hand Sanitizer – keep the good bugs, not the bad bugs…
Always in my bag, so I can quickly spritz my hands clean before a 9th hole or snack. Makes sure there is no chemical residue and take away the sweaty golf glove aroma! Plus it boosts my immune system so I won't miss a day from being sick.
Zen Gest – for when that halfway hotdog doesn't feel good by hole #12
Digestive discomfort can totally sabotage your game. Don't let an upset or bloated belly interfere with your swing. A quick roll on the belly with these digestive oils will quickly fix the problem before it's your turn to hit again. This little blend has everything in it to soothe the belly; ginger, peppermint, fennel, anise… It's a great mix that's not overpowering and works will all types of discomfort.
Terrashield Bug Repellant – for swinging not swatting!
You are outside getting fresh air, don't bathe yourself in a toxic cloud! Terrashield not only works better than DEET, but it grounds you, helps you stay present in the game, and replenishes your skin. The side effects are amazing – too bad we don't have more bugs in Calgary…
Perfect Companions
Worried that the oils will be slippery on your hands while you swing. That's why I love the rollers and sprays for on the course. You can roll them on, get the benefits without even taking off your glove. Perfect for quick tune-ups while you are waiting for your turn on the tee box.
I can't imagine a round of golf without oils. Why suffer through pain, discomfort or irritation when a few little rollers can help improve your swing, your mindset and make each round that much sweeter!
Check out the Essential Oils for Golf Kit to get started this season.