One of the reasons I love summer is the variety of fresh fruits that are in season. Yummy peaches, blueberries, apricots, watermelon and more are fresh and readily available at the grocery store or your local farmers market. Ahh…the sweetness of it all!
Though I enjoy all these fruits to just eat as they are, I also use these readily available fruits to create yummy dishes, like salads, desserts and of course smoothies…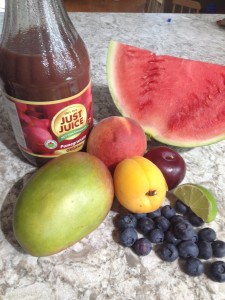 Smoothies have become very much a staple at our house and I have started experimenting with different kinds of smoothies and how they affect our energy. Learning and understanding more about the importance of eating in season and using those foods to nourish us. They also taste so much fresher, sweeter and delectable because they are exactly what our bodies want!
With this in mind I set out on a search for summer smoothie recipes that use a variety of in-season summer ingredients (because being Vata – I like variety) and not only came up with 3 fantastic yummy combinations, but they are also beautiful vibrant colours too (the colours alone make me want to drink them).
Refreshing Summer Smoothies are a great way to re-hydrate in the summer. And they decrease the fire element or pitta dosha, helping to reduce inflammation and irritation.
3 Refreshing Smoothie Recipes
Blueberry Pomegranate Smoothie Recipe
I loved the idea of blueberries and pomegranate juice and specifically looked for this combination when I was searching for a recipe. The dash of cinnamon is subtle but just enough to give it that extra added flavour. Blueberries and pomegranate are both rich in antioxidants, high in Vitamin C, lower cholesterol levels and improve digestion.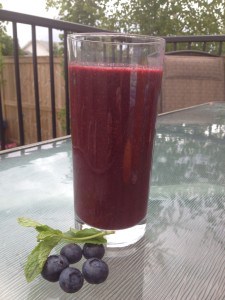 • 1/2 cup water
• 1/2 cup pomegranate juice
• 1 cup fresh or frozen blueberries
• 1 tablespoon coconut oil
• 3-5 ice cubes
• 1 tablespoon lemon juice
• 1 tablespoon chia seeds
• 1 teaspoon honey
• a dash or two of cinnamon
Put all ingredients into a blender. Mix well and serve.
Serves 2
Summer Fruit Smoothie Recipe
This combination struck me as quite unique and I loved the colour! The grated lime adds a nice bit of freshness. The benefits of mangoes include boosting your immune system, clear skin, improve digestion and actually helps fight heat stroke. Apricots and peaches are rich in Vitamin C, support good eye health and anti-ageing benefits.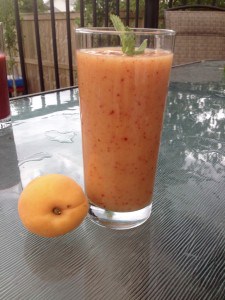 • 1 ripe mango, peeled and diced
• 1 ripe plum, pitted and chopped 1 ripe nectarine, pitted and chopped
• 1 ripe peach, pitted and chopped
• 1 ripe apricot, pitted and chopped
• a little fresh grated lime zest
• 1 cup coconut water
• mint leaves for garnish (optional)
Put all ingredients into a blender. Mix well and serve with fresh mint for garnish.
Serves 2
Watermelon Smoothie Recipe
This by far is my favourite. It is such a cool refreshing drink, literally perfect for a hot summer day. Plus I love mint, so that was a big selling point. I have to admit I'm not a watermelon fan, it's like eating water. Turns out watermelon is chock-full of vitamins and nutrients such as potassium, Vitamin A and like many of the other summer fruits, antioxidants and anti-inflammatory support. Knowing the "why" helps me to change my perspective on this one and maybe even develop a taste for it!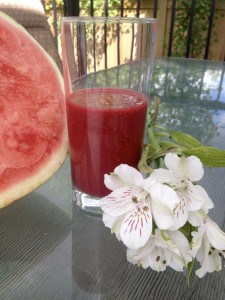 • 1 c. watermelon
• 1/2 c. frozen raspberries
• fresh lime juice (squeeze 1/4 of a lime)
• 2 sprigs of fresh mint
Put all ingredients into a blender. Mix until well combined and is smooth. Pour into a glass and enjoy!
Serves 1
Custom HTML/CSS/JAVASCRIPT
Replenish this Summer
Summer smoothies are a great way to enjoy the seasonal summer fruits, and refresh and replenish the body; giving us that extra energy to enjoy and play in the summer sun.